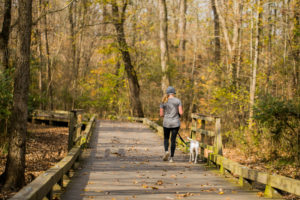 Parks and Recreation
Forsyth County's variety of parks and recreation amenities heavily influences life in the county. These amenities play a major role in Forsyth County's repeated top ranking as the healthiest county in Georgia. The Robert Wood Johnson Foundation gave Forsyth County  this recognition for six consecutive years.
The county offers multiple robust fitness programs, housed in cardio workout rooms. More than 90 fitness classes of all levels are offered to all ages at three recreation centers: Central Park, Fowler Park and Old Atlanta Park. Enjoy viewing the county's 2019 Activity Guide and learn where you can take a walk, go camping or learn a new sport.
Activities and Teachers
According to Laura Pate, Marketing and Community Relations Manager for the Forsyth County Parks and Recreation Department, the most popular activities in Forsyth County are outdoor endeavors. They include:
Walking
Tennis
Youth Athletics- particularly soccer, baseball/softball, football and lacrosse
There are more than 80 athletic fields to house these youth tournaments. The county invested in costly synthetic turf on many fields allowing them to be used all year long. More than 30 county tennis courts offer recreation and socialization opportunities for residents of all ages.
Beyond just fields, the county's amenities include more than 50 miles of paved and unpaved trails of varying levels of difficulty. Some trails offer nature-orientation experiences and others were crafted for hiking and trail-running. One notable amenity is the Big Creek Greenway. It is a 12-foot wide concrete and boardwalk path meandering through the deciduous woods along the Big Creek of Forsyth County. The greenway offers an ideal setting for walking, jogging, biking and inline skating.
A high number of Certified Parks and Recreation Professionals make up the county's park staff. Thirteen of these staff members are therapeutic professionals. The Forsyth County Parks and Recreation Department has received national accreditation and is one of only 166 nationally accredited parks and recreation departments in the nation.
Events
The department's largest event of the year is the annual Play at the Park Festival that occurs in the Fall at Fowler Park.
"Mark your calendar to attend this year's Play at the Park on the last Saturday of September. We have around 10,000 residents who attend this community festival, where they are introduced to local businesses, children's activities, a petting zoo, music, hot air balloons and food trucks," shared Pate.
The facilities, amenities and events provided by the Forsyth County Parks and Recreation Department are contributors to the outstanding quality of life that welcomes new businesses and their employees to Forsyth County. To discover how your business can call Forsyth County home contact the Chamber's Vice President of Economic Development, Robert Long at rlong@cummingforsythchamber.org.
If you're curious for more facts about Forsyth County and its quality of life, including the shoreline, sports fields, and trails, just browse ChooseForsyth.