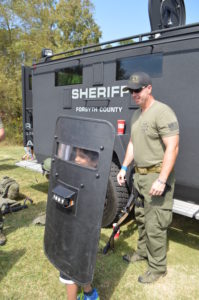 The Facts
Recently, the GBI released its crime statistics for nine counties that make-up central Metro Atlanta. They include: Clayton, Cherokee, Cobb, Dekalb, Forsyth, Fulton, Hall, Henry and Gwinnett. Forsyth County had the lowest crime rates in six of the seven tracked categories including: rape, robbery, assault, burglary, larceny and vehicle theft. Forsyth County tied with Hall County for the lowest murder rate in Metro Atlanta.
So why is crime in Forsyth County so much lower than these surrounding counties?
Contributing factors include Forsyth County residents' commitment to hard-work, high education level and focus on family. The most outstanding contributor, though, is the Forsyth County Sheriff's Office.
The Forsyth County Sheriff's Office consists of 271 certified officers. That makes it the fourth largest full service sheriff's office in Georgia. Alongside its prestigious CALEA (Commission on Accreditation for Law Enforcement Agencies) accreditation, the office responded to 181,821 calls with an average response time of less than 14 minutes in all districts.
A joint drug task force with the Johns Creek Sheriff's Office and the Alpharetta Public Safety department, resulting in more than 130 drug dealer arrests
Multi-agency training exercises with officers from other agencies to enhance their skills and child protection services
AT&T's #ItCanWait competition, winning $15,000 for the Georgia Sheriff's Association and raising awareness of cell phone usage and distracted driving
Drone unit implementation to better sight SWAT call-outs, traffic accidents, missing people and other concerning situations
Junior Law Enforcement Academy classes where students learn about law enforcement and participate in defensive tactic drills led by Forsyth County deputies
Forsyth County takes crime prevention seriously. Its low crime rates are just a few of the various attributes that keep businesses and families relocating to the area.
Low Crime Rates aren't the only reason Forsyth County is drawing so many people in. It is also one of the most affluent, fastest growing, and healthy counties in the country. To learn more about Forsyth County's outstanding attributes, contact the Chamber's Vice President of Economic Development, Robert Long, at rlong@cummingforsythchamber.org.