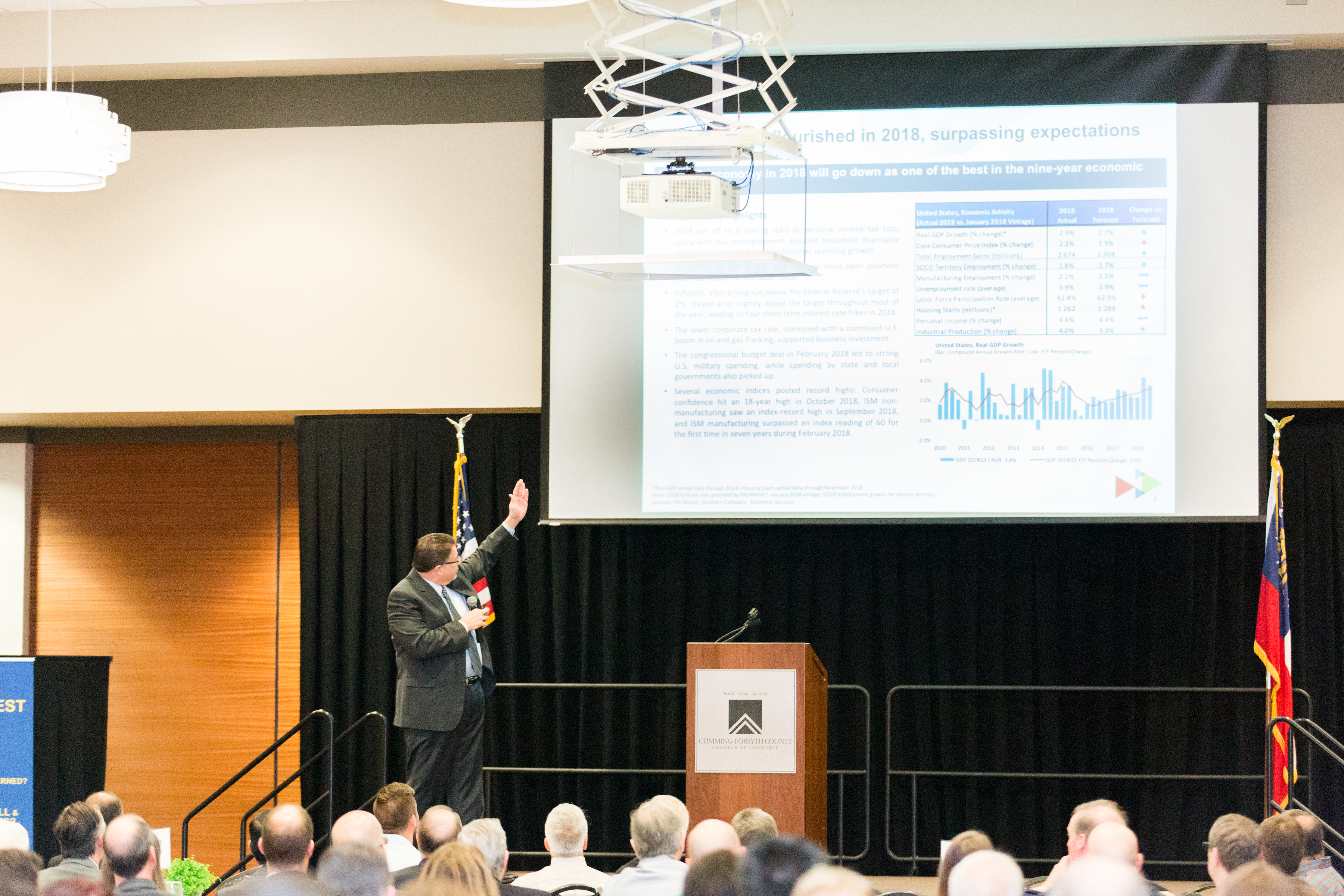 If you scan the headlines in the financial press, it is easy to feel extremely optimistic or extremely pessimistic about the economy. Often, these headlines are simple overreactions to unexpected economic news. But by simply scanning the headlines, it is easy to adopt a skewed or incomplete view of the U.S. economy.
So what is actually going on? Kenneth Shiver, the Chief Economist for Southern Company, presented an economic outlook recently for the Cumming-Forsyth Chamber of Commerce.
Here is a takeaway of his presentation
Ultimately, the recent past has been terrific.
The 2018 U.S. economy will likely be seen as one of the best years since the Global Financial Crisis. For the first time in U.S. economic history, there were more open positions than job seekers in the labor force. Consumer confidence hit a record high, inflation remained at the Federal Reserve's two percent target, and the personal income tax cuts (along with low unemployment) increased household disposable income.
This strong economic growth can be seen in additional ways. Payroll gains in 2018 averaged 223,000 per month, which is about a 25 percent increase from 2017. The United States has also become the world's largest producer of crude oil. ISM manufacturing and non-manufacturing also saw dramatic increases. In February 2018, ISM manufacturing breached an index rating of 60 for the first time in seven years while ISM non-manufacturing reached a record high in September 2018.
The trends aren't unanimously positive
With all that said about 2018, December's ISM manufacturing index suffered the largest one month drop since 2008. While the index recovered in January 2019, the near-term outlook indicates a slowdown. Along with this, U.S. trade policy is concerning. Whether you call it a trade war or not, trade relations between the U.S. and China continue to be contentious. While President Trump has announced that a March 1 deadline to increase tariffs on Chinese goods is postponed, there is a real possibility that the U.S. raises imports taxes to 25 percent for $200 billion in Chinese goods. Retailers also continue to face significant pressure, as U.S. online sales rose by about 10.8 percent while department store sales fell by about 0.2 percent year over year in November 2018. A slowdown seems inevitable due to weakened demand caused by rising interest rates and waning fiscal stimulus.
Local Outlook
While the national trends present some upcoming challenges, what about Georgia? There is both good news and bad news.
Good News
The Southeast region outpaces the entire country in population growth. There is net migration into the region—particularly into Forsyth County. The recent pace of new home construction in Forsyth County (and accompanying household demand) is back to levels seen before the Global Financial Crisis. Payrolls in Georgia are also expected to rise 1.6 percent year over year between the fourth quarter of 2018 and the fourth quarter of 2019. This will result in a net gain of 70,000 jobs. Georgia itself also has some inherent advantages as well. These include its geographic location, business affordability (like low tax rates and cheaper real estate compared to its regional neighbors) and a healthy industrial mix.
Bad News
Besides the Atlanta-metro area, there are lower levels of education in Georgia compared to the national average. There are also concerns about housing affordability the Atlanta-metro area. Current immigration policy also threatens Georgia's ability to bring in talent from abroad.
In Summary
While economic policy uncertainty remains fairly elevated in the U.S., a recession does not seem imminent. Interest rates remain low. The Bipartisan Budget Act of 2018 will spur government spending while the 2017 Tax Cuts and Jobs Act will continue to advance private final demand. Potential risks to the 2019 and 2020 economy, however, include stock market volatility, U.S.-China tensions, oil supply volatility, and slowing global growth.
The Calm Before the Storm
Recessions are inevitable. Market cycles have existed and will continue to exist into the foreseeable future. It's fair to say that we are likely approaching one in the next few years.
But having said that, many indicators show that the fundamentals of the U.S. economy are currently strong. This is good news for Americans and Georgians alike. Georgia business leaders should take advantage of current optimism while simultaneously preparing for rougher seas ahead.
See the full presentation below.