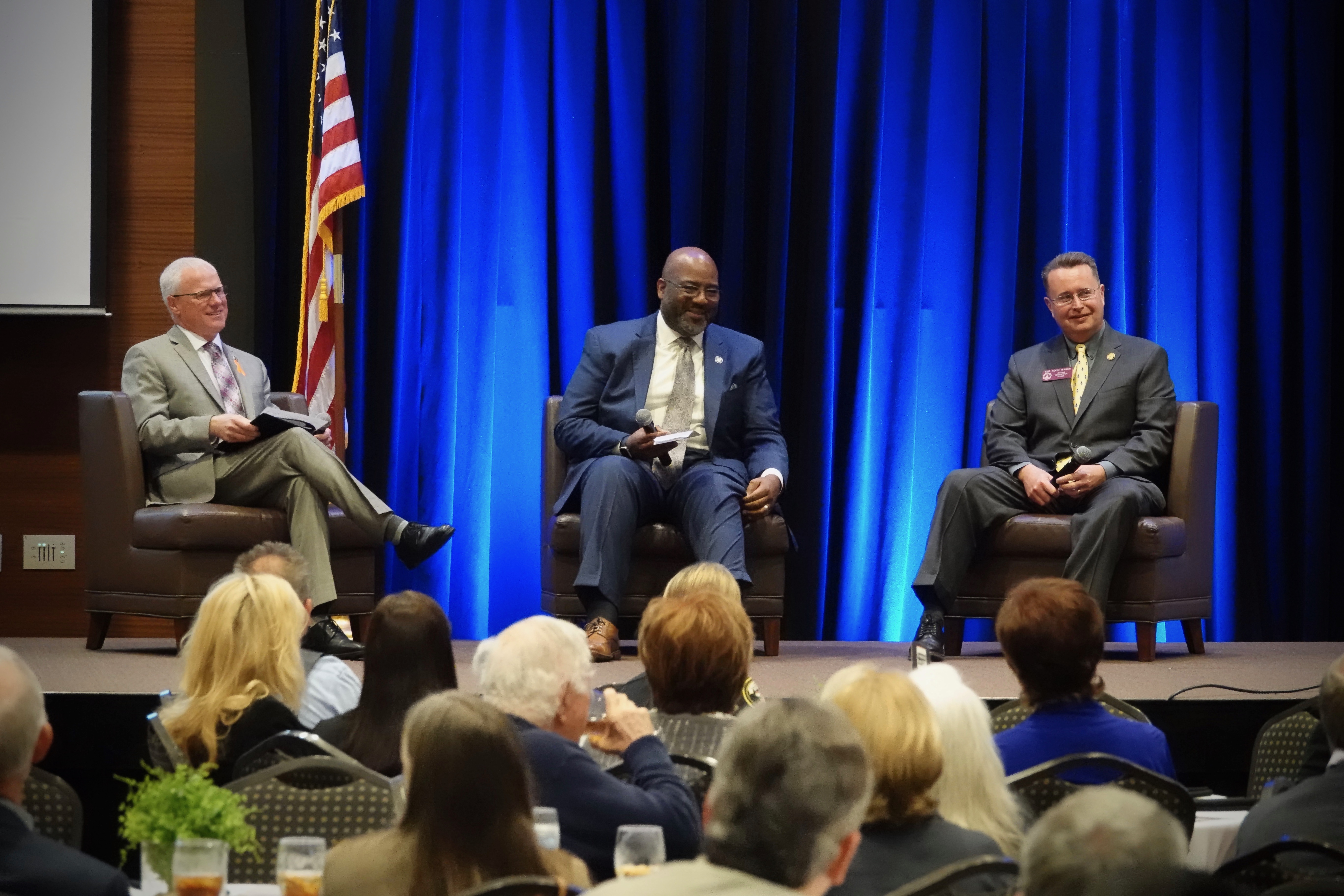 From the left: Russell McMurry, GDOT Commissioner; Chris Tomlinson, Executive Director of SRTA & GRATA, Interim Executive Director of the ATL, President of IBTTA; and Kevin Tanner, District 9 Representative and Transportation Committee Chairman.
The Forsyth County Transportation Summit held on April 10th, 2019, was a great success with a transportation roundtable and Q&A from the audience at the end.
Here is what GDOT released about the Transportation Summit:
"Forsyth County Commissioners welcomed Georgia DOT's Commissioner Russell R. McMurry along with Director of State Roadway and Toll Authority (SRTA), Chris Tomlinson and District 9 State Representative Kevin Tanner, to participate in a roundtable discussion at the 2019 Transportation Summit hosted yesterday in Cumming.
The annual event was sponsored by the Cumming-Forsyth Chamber, the County, and the South Forsyth Rotary Club along with other local businesses.
Mayor of Cumming,Troy Brumbalow, Assistant County Manager Garrin Coleman, and Brandon Kirby District Engineer for the Georgia DOT's Northeast Region, gave updates on local transportation projects.
According to Brandon Kirby, Forsyth County has four active construction projects that range in scope from traffic signal upgrades to full bridge replacements. These projects represent a $53.1 million construction investment in the county.
"We've also been able to partner with the county to complete projects. Our partnership allows projects to be done efficiently when we work together, the shining example in the last few years being the widening of State Route 400," said Kirby.
Others in attendance included State Senator Steve Gooch and State Transportation Board member Rudy Bowen who commended the county for understanding that transportation is important for continued economic growth.
Bowen said, "Communities like Forsyth County understand just how important it is to have safe, connected roadways to welcome business and families."
At the end of the event, attendees were allowed to openly express their concerns. Commissioner McMurry fielded questions about the relocation of utilities and the possibility of State Route 400 becoming an interstate spur. According to Cumming-Forsyth Chamber President and CEO James McCoy, this year's event had approximately 250 in attendance.
For more information about the 2019 Forsyth County Transportation Summit, visit Forsyth County Government or the Cumming-Forsyth Chamber"