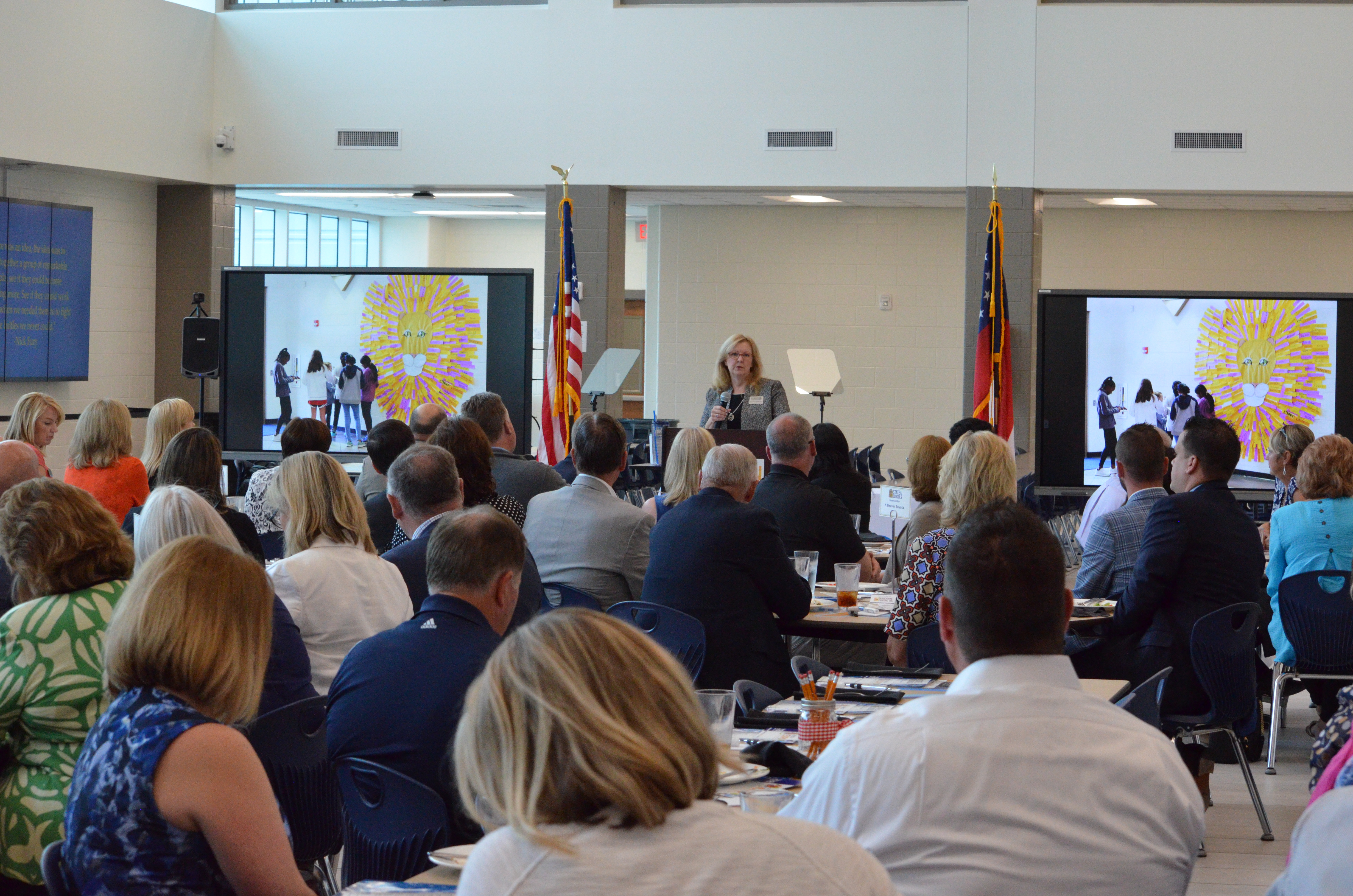 At the 2019 inaugural State of the Schools at the Alliance Academy for Innovation (AAI) hosted by the Cumming-Forsyth County Chamber of Commerce on July 30th, AAI principal Brandi Cannizzaro presented an overview of AAI's first year, their school focus, and what the new school year will bring.
What is the Alliance Academy for Innovation?
The Alliance Academy is a new alternative high school in the Forsyth County School System that officially opened in Fall of 2018. It is considered a school of choice, similar to a magnet school, with attention to building career and financial skills. Although it opened its doors exclusively for ninth and tenth grades in the first year to ensure success, in the 2019-2020 school year it will serve students in grades 9-12.
Funded in part through the Forsyth County Public Facilities Authority, AAI is Forsyth County Schools' seventh high school. The academy is a true example of public/private partnership and has been a collaborative project between business, industry, post-secondary and community partners from its inception.
Cannizzaro highlighted a specific term at State of the Schools to describe their approach to education: Career Technical Education (CTE). CTE is a school of thought that keeps teachers at the innovative front of education, giving students academic and technical skills to succeed outside of school, in future careers and become lifelong learners, which AAI does with their unique and innovative approach to education.
The School's "Alternative" Take on Education
How Students are Impacted in a Learning Environment
Cannizzaro said that there are two key ideas that propel the academy. The school system and teachers must "make sure that students feel connected: connected with each other, [connected with] learning and culture… [That] is a huge endeavor of our school system. And we want to make sure that learning is meaningful and relevant for all of our kids each and every day."
Part of how they do this is with a focus on soft skills. That lays the groundwork for students having the right mindset about their education. The academy holds its students up to three main standards and has "dress for success" days twice a month: one where students dress professionally and another where they dress for the industry of their choice. The school's standards for mindset are:
Respectful

Be professional
Participate in teamwork

Responsible

Hold yourself to a personal best
Be reliable to others

Resourceful

Be innovative
Think like a problem solver
In addition to the proper mindset and having the students hold themselves to a high standard, a large part of the key ideas that Cannizzaro mentioned are applied in the learning experiences available to students both in and out of the classroom.
Unique Pathways and Electives
A lot of the academy's learning experiences are modeled after Next Generation Learning, a method of teaching that focuses on how the students are learning and making sure they are prepared for life after first and secondary school. This method spurred AAI to have smaller classes and take in less students so that it can focus on learning being meaningful and relevant to the students, and it includes putting the students into pathways. At the academy, all students still have to complete graduation requirements for Georgia, but the school offers pathways and electives that aren't offered in most other schools, not only in Georgia but in the nation. AAI has 6 pathways for the 2019-2020 school year:
Criminal Justice & Law
Cyber Security & Digital Intelligence
Aerospace & Logistics
Healthcare & First Responders
Hospitality & Tourism
Mechatronics & Energy
To enhance these programs, the school has invested in technology and innovative simulators. The Criminal Justice & Law pathway uses a built-in courtroom designed after the Forsyth County Courthouse, the Aerospace & Logistics pathway has a true flight simulator for student use, the Healthcare & First Responders pathway has a built-in ambulance simulator to allow students to experience working in that environment and the Mechatronics & Energy department has a robotics lab full of state of the art equipment.
Spaces and Equipment for Better Quality Learning
In addition to the spaces and equipment available in different pathways, all students have access to a state of the art innovation lounge and media center to work independently or in teams on projects, a gym with a concrete floor that was built for robotics competitions and a bring your own technology (BYOT) lounge to allow students to keep their technology at a full charge and use it for learning purposes.
The school built the facility with large windows to allow sunlight in and give a great view of the north Georgia mountains in classrooms and the cafeteria, brightening the students' day.
Student Organizations
While AAI does not have traditional highschool sports teams, they do have a mascot, the Avengers. The Avenger Sports Club introduces fundamental skills, strategies, and rules associated with various sports. Their other student organizations fall under the Career & Tech Student Organizations category:
HOSA – A Healthcare Organization
DECA – A Marketing Organization
TSA – Technology Student Association
FBLA – Future Business Leaders of America
FRC – First Robotics Competitions
There are even more clubs and volunteering opportunities for students in the schools, allowing them to compete and gain leadership skills through extracurriculars.
What's Coming Up for the School's Second Year
For the 2019-2020 school year, the Alliance Academy for Innovation is introducing a new school for students: Cybersecurity. They will also have two new pathways: Game Design Animation & Simulation and Aviation Maintenance. The school has also accepted 300 new students in grades 9-11 and hired 17 new teachers to accommodate the larger student body.
With continued support from the Cumming-Forsyth County Chamber of Commerce, the Forsyth County School System, and countless local businesses, The Alliance Academy for Innovation is starting its second year strong after a very successful first year.