The War for Talent is Getting More Fierce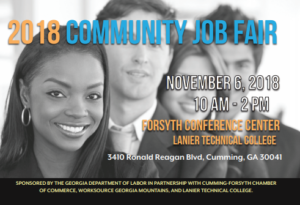 In 2018, it is increasingly important to attract and hire the best talent. Competition—both here and abroad—has become more and more intense. Whatever sector or industry, it is clear that talent is going to separate your company from its competitors.
The job market is currently very strong. For the first time on record, there are more job openings in the United States than the number of unemployed Americans. The most recent data from the US Department of Labor's Bureau of Labor Statistics shows that the national unemployment rate is at 3.9 percent. The news is even better in Georgia, where the state unemployment rate is at 3.8 percent. There are 5 million employed people within the state and the Georgia state labor commissioner recently said, "We have been employing new workers as fast as we have been adding them."
The competition is no joke. In your quest to attract the best talent to your organization, the margin for error is getting smaller and smaller.
Considering all these macro challenges, how can you increase the odds of finding your next group of star employees?
Here are five hiring insights for attracting talent in 2018. While not an exclusive list, the following insights will serve you well as you go about searching for talent to hire in the marketplace.
Leverage Your Presence on Social Networks:

It's almost cliche to state that your organization needs to be present where candidates reside, whether that is LinkedIn, Twitter, or some more discrete social network within your industry. There's no excuse not to have a presence on these platforms. That said, how do you actually use these social networks to your advantage when searching for new employees to hire?

One of the best ways to distinguish yourself from your competitors is to create compelling content that attracts prospective hires to your page. Whether it is a thought piece on the direction of your industry or even updates on a cool project that several employees are working on, you will want to give prospective hires an inside look into your company's interesting work. There is no need to feel obligated to remain stiff and formal. Showing off your personality will humanize your company and will show them that you don't take yourself too seriously. Even better, start a conversation with your followers. Who knows—the person who frequently comments on your company's LinkedIn or Twitter page may be your next great hire.
Canvass Current Employees:

Because of the tight job market, your next great hire likely isn't sitting on the sidelines, waiting for your call. He or she probably has a great job—perhaps at a competitor—and isn't looking to quickly make a move. While it is more difficult than simply posting a job listing on LinkedIn or another job board, you and your organization will want to find those rock stars who are working at other companies.

One of the best ways to find these potential employees is to canvass the network of your current employees. Whether you institute a referral program or just ask your employees for ideas of who you could hire to fill an open role, you have a "hotter" lead than simply announcing a job vacancy. You will be alerted to potential employees that you initially wouldn't recognize by only posting a vacancy. Along with this, your employees can vet the prospective hires for cultural fit. This is increasingly important—regardless of your organization's size or sector.
Advertise Proven Paths for Promotion:

When analyzing their next opportunity, the best talent will be looking for ways to rise within an organization. And this makes sense: the most talented employees are often the most ambitious. They want more responsibility and autonomy over their work. Along with this, the best employees are often the most passionate about their work. They feel a higher sense of calling with their work and are willing to put in the extra hours to see their work come to life, whether that results in happier customers, a better product, or something else.

Your organization will want to add some logs to that metaphorical fire. Ultimately, establishing a clear pattern of promotion for hard-working, talented employees will signal that your organization takes your employees' careers seriously. Developing a reputation for cultivating talent will go a long way in attracting the most talented hires.
Offer Attractive Hiring Perks and Benefits:

Surveys show that benefits packages are just as important (if not more so) than salaries for new hires. While you and your organization may be focusing on the salaries being offered to new talent, rest assured that some of the best talent will be keeping a close eye on the perks and benefits that your company offers. This is especially true among Millennials and Gen Z employees.

The precise benefits offered by your company will vary. Even so, you will want to think about offering attractive perks and benefits to attract prospective hires. Some of those perks could include flexible working arrangements, paid time off, free snacks in the office, extended paternal or maternal leave, or even stipends to pay for a local gym membership. Ultimately, these benefits and perks may be the one thing that convinces a prospective hire to join your company.
Play to Your Company's Strengths:

Finally, your company or organization has some advantage over competitors, local and international. For example, one organization located in downtown Atlanta has some advantage over a competitor in Athens. The same is true the other way: the business in Athens has some advantage over a competitor in Atlanta.

It is important to sit down and recognize your organization's advantages. Upon doing that, be sure to articulate those advantages. It can be on social media, in a job posting, or in an actual interview with a candidate. As you know, recruiting new talent is an exercise in sales. You will want to leverage all of your organization's unique advantages when speaking with the best talent. By doing this, you will separate yourself from competitors and increase the chances that you will land that next great hire.
Get Started Today
Recruiting is an ongoing process. There is never any pause or temporary ceasefire in the war for talent. This is even truer today, with a humming economy and low unemployment rate in Georgia and the United States.
Ultimately, your organization needs to take proactive action to attract the best talent. Whether that means assigning a member of your recruitment team to continuously post content on your social media page or finding room in your budget for more perks and benefits, you will want to employ many levers in your recruitment efforts.
While it may be difficult, the results will speak for themselves.
One thing that isn't difficult and will get you a head-start while you consider these tips is to sign up with the 2018 Community Job Fair. Like canvassing current employees, the career fair on November 6 will give you a space to find talent. You can also establish a reputation with them right away. Whether they're looking for a job or not, anyone you meet at the career fair will be an opportunity to make an impression and connect with them. Find out more about it here: http://web.cummingforsythchamber.org/events/2018-Community-Job-Fair-4025/details or email janet.chapman@gdol.ga for a spot.